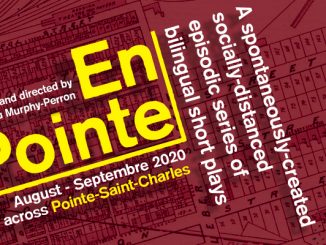 a social i
This theatrical work has moved me with its themes of coming together as a community, seeking belonging and a place to call home, the gentrification of our urban neighbourhoods, the power of the collective when fighting for social justice, and of the language and cultural barriers that we are challenged with as Montrealers. The stories En Pointe has brought to the 'stage' have also deeply resonated in addressing our current experiences of isolation amid the coronavirus crisis. Mathieu's words and characters and scenarios are a sincere reflection of our present-day realities, and impactful in making me realize that I am not alone in my struggles.

-Camilla Fitzgibbon

What We Choose to Remember features a cast of more than 30 characters, whose families arrived in successive waves of immigration. The oldest families arrived during the period of 'two solitudes' when Montreal's population was more than 50% English. They share firsthand accounts decades of political upheaval. The most recent immigrants arrived believing linguistic conflicts were ancient history.


Acknowledgements
Our story takes place on the Indigenous lands of the Kanien'kehá:ka (Mohawk) nation of the Haudenosaunee Confederacy. Tiotià:ke (known as Montréal) has existed as a meeting place of many First Nation peoples, including but not limited to the Abenaki , Anishinaabeg (Algonquin), and the Huron-Wendat. We extend our deepest respect to the elders of these nations and to all Indigenous peoples who carry the history of this island's land and waters. We also call upon all levels of government to adopt and implement the 94 recommendations of the

Truth and Reconciliation commission

.
We acknowledge the support of our sponsors