Motherlode: A Mosaic of Dutch Wartime Experience
(2013)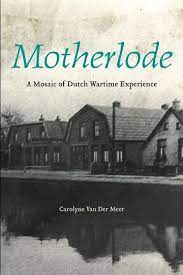 Tannahill, while being based in Toronto and now Europe, has had a big influence in the Montréal English theatre scene through his time at NTS and his work about the city's cultural and music scene. I've had the privilege to not only read and see Late Company on stage, but also co-produce it twice and hence seen it more than 50 times. Each time, the words sounded different; the dialogue new; the characters strangers. Why? Not only because of Tannahill's genius, but because this story resonated with me. I have experienced and been a witness of countless cases of bullying, children being misunderstood, homophobia, cultures of silence, and lack of justice. This story can be set anywhere. From Geneva, where I grew up and felt alone, to Montréal where I now live and feel surrounded by love. The ways in which the words of this play make me feel uncomfortable, sad, hopeful, relatable, and isolated, all at the same time, was both terrifying and exciting. For these reasons, I am profoundly touched by his work and continue to be.

What We Choose to Remember features a cast of more than 30 characters, whose families arrived in successive waves of immigration. The oldest families arrived during the period of 'two solitudes' when Montreal's population was more than 50% English. They share firsthand accounts decades of political upheaval. The most recent immigrants arrived believing linguistic conflicts were ancient history.


Acknowledgements
Our story takes place on the Indigenous lands of the Kanien'kehá:ka (Mohawk) nation of the Haudenosaunee Confederacy. Tiotià:ke (known as Montréal) has existed as a meeting place of many First Nation peoples, including but not limited to the Abenaki , Anishinaabeg (Algonquin), and the Huron-Wendat. We extend our deepest respect to the elders of these nations and to all Indigenous peoples who carry the history of this island's land and waters. We also call upon all levels of government to adopt and implement the 94 recommendations of the

Truth and Reconciliation commission

.
We acknowledge the support of our sponsors